To promote the continuous interchange of ideas, national experts working to translate sustainability ideas into practice take up residence on the Eugene or Portland campuses for three day sessions scheduled throughout the year. During this mini-residence, experts:
Engage intimately with students and faculty in the classroom, through brown bags, in design charrettes, competitions, etc.
Conduct workshops for private and public sector organizations throughout Oregon; and
Deliver public community lectures.
Interested in visiting the University of Oregon through the SCI 'Expert-in-Residence' Program?
---
Past Experts-in-Residence
2017 - Jeff Tumlin 2016 - Denny Zane, 2015 - Shelley Poticha, 2014 - Stellan Fryxell, SAR/MSA, 2013 - Joan Fitzergerald, 2012 - Jarret Walker, 2011 - Gabe Klein, 2010 - Jonathan Levine, 2009 - Bill Wilkinson
---
Our 2017 Expert in Residence was Jeff Tumlin, principal director of strategy at Nelson\Nygaard. Jeff Tumlin is an expert in helping communities move from discord to agreement about the future. For more than twenty years, Jeff has led award-winning plans in cities from Seattle and Vancouver to Moscow and Abu Dhabi. He helps balance all modes of transportation in complex places to achieve a community's wider goals and best utilize their limited resources. He has developed transformative plans throughout the world that accommodate millions of square feet of growth with no net increase in motor vehicle traffic. Jeff is renowned for helping people define what they value and building consensus on complex and controversial projects. He provides residents and stakeholders the tools they need to evaluate their transportation investments in the context of achieving their long-term goals. He understands that managing parking and transportation demand is a critical tool for revitalizing city centers and creating sustainable places. A dynamic and frequent guest speaker, Jeff is the author of Sustainable Transportation Planning: Tools for Creating Healthy, Vibrant and Resilient Communities (Wiley, 2012).
Biography courtesy of Nelson\Nygaard
Our 2016 Expert-in-Residence (EIR) is Denny Zane, the Executive Director of Move LA. Zane created Move LA in 2007 to bring together business, labor, and environmental leaders and organizations with the goal of raising significant new funding for Los Angeles County's transit system. This coalition helped lead the campaign for the Measure R sales tax and proved to be a powerful force in getting Measure R on the 2008 ballot and winning its passage. LA County has now embarked on an ambitious build-out of its transit system. Previously, Zane served on the Santa Monica City Council, including one term as mayor, during which he initiated the revitalization of the Third Street Promenade. He wrote much of the land use policy for Santa Monica's downtown, emphasizing pedestrian amenities, mixed-use development, and effective transit access — before these policies became known as "smart growth." Zane was also Executive Director of the Coalition for Clean Air. He began his career in the late 70s by founding Santa Monicans for Renters Rights, a progressive community coalition that has held a city council majority in Santa Monica for 24 of the last 30 years. 
More information about the EIR schedule is forthcoming. 
Biography courtesy of Move LA.
Shelley Poticha serves as the director of the Urban Solutions program, building the Natural Resources Defense Council's (NRDC's) work for better cities that support thriving people. Urban Solutions highlights the place-based work of NRDC and includes promoting transportation choices through mobility options, increasing building energy efficiency, model green and equitable neighborhoods, sustainable food systems, green infrastructure, and climate preparedness. Urban Solutions is the culmination of NRDC's thinking and mission for sustainable communities.
Shelley is a longtime partner of NRDC and has worked with multiple initiatives, including transportation policy reform, LEED-ND, and the creation of Smart Growth America. Prior to joining NRDC, Shelley was a senior advisor and director of the Office of Sustainable Housing and Communities at the Department of Housing and Urban Development (HUD). Before joining HUD, she served as President and CEO of Reconnecting America, where she became a national leader for the reform of land use and transportation planning and policy, with the goal of creating more sustainable and equitable development, particularly around transit stations. Prior to her work with Reconnecting America, she served as Executive Director of the Congress for New Urbanism.
Shelley holds a Master of City Planning from the University of California, Berkeley and a Bachelor of Arts from the University of California, Santa Cruz. She works in NRDC's Washington office.
Return to Past Experts-in-Residence.
In April 2014, Swedish urban designer Stellan Fryxell presented two public lectures at University of Oregon in Eugene and Portland on Rethinking Cities: A Holistic Approach to Sustainability and Urban Design.  
Stellan Fryxell is a partner at Tengbom Architects in Stockholm, Sweden. Mr. Fryxell worked on various projects in Sweden, most notably Hammarby Sjöstad in Stockholm. His work can also be seen worldwide in Oslo, Riga, London, Dublin, Ostrava, Shanghai, Chongqing, Huludao, Saint Petersburg, Xi'an, and Wuxi.

Lecture Summary
Acknowledging that cities have a vital effect on the global environment, Stellan Fryxell discussed the need for a holistic approach to sustainable urbanism. Cities cover roughly 2% if the Earth's land but use 75% of all energy and emit 80% of all carbon dioxide. Society has to "rethink cities" through evolving resource efficiency, with increased focus on planning and designing attractive areas. Fryxell believes urban challenges can be turned into opportunities and will demonstrate this theory through Stockholm's largest urban development project: Hammarby Sjöstad. This district has its own eco-cycle, the Hammarby Model, which outlines environmental solutions for buildings, traffic, waste, energy, water, and sewage. The model is predicated on a strong Swedish tradition of public-private co-operation between planning authorities, developers, architects, and engineering and environmental specialists. The benefits that can be gained when considering a systemic approach to cities will be further addressed by Fryxell through findings that were published in a paper by the International Federation of Consulting Engineers.
Click here to view a video of Stellan Fryxell's Eugene lecture.
Click here to read more about Stellan's lecture.
Return to Past Experts-in-Residence.
Joan Fitzgerald is the Director of the Law and Public Policy Program at Northeastern University. Previously, Fitzgerald taught urban policy and public affairs at TheNew School, the University of Illinois at Chicago, and Ohio State University. She is an expert and author on urban economic development, urban sustainability planning, workforce development, and green economic development. Click here to see her CV.
Professor Fitzgerald is the author of Emerald Cities: Urban Sustainability and Economic Development (Oxford Univ. Press, 2010), which examines how U.S. and Western European cities are addressing the interrelated issues of global warming, energy dependence, and opportunities for green economic development. This potential includes building new technology-based industry clusters, improving the efficiency of production in existing manufacturing processes, and creating well-paying green jobs in construction, manufacturing, and entirely new technology sectors.
Emerald Cities builds on her co-authored 2002 economic development book, Economic Revitalization: Strategies and Cases for City and Suburb, which examines how traditional economic development strategies can be used to promote more sustainable and equitable development. It also integrates questions raised in her second book, Moving Up in the New Economy (Cornell Univ. Press, 2006), which focuses on strategies for helping low-wage workers advance into better paying positions through skills upgrading.
Fitzgerald has also edited a three-volume set, Cities and Sustainability, for the Routledge Critical Concepts in Urban Studies series. She is organizing the Emerald Cities Network, an organization of universities supporting their cities in pursuing climate change initiatives and policies.
As an SCI Expert-in-Residence, Joan led a public discussion on cities, economic development, and sustainability in October 2012.
Return to Past Experts-in-Residence.
Jarrett Walker is an international consultant in the field of public transit planning and policy. His main research emphasis lies in the concept of linking transit planning to community planning and urban structure. He has worked with city authorities, developers, and nonprofits in an effort to use public transportation as a means to promote inclusion, resilience, and individual freedom.
A self-confessed "transit geek," Jarrett Walker began using the Portland bus system at the age of 10, when the Portland TriMet system was still in its infancy. Soon, he began calling TriMet to offer suggestions and ask questions regarding the system itself. From this experience, he developed a passion for public transit, which blossomed into the varied career Walker has today as a public transit consultant.
Jarrett Walker worked as a consultant for Nelson Nygaard Consulting Associates from 1991 to 2006. He then worked for TransLink as an in-house consultant from 2005 to 2006, before working as a senior consultant for McCormick Rankin Cagney Pty Ltd. from 2006-2008. Currently, Jarrett works as an independent transit consultant in addition to his work as a principal consultant for McCormick Rankin Cagney. McCormick Rankin Cagney is an Australasia-based firm that specializes in transit development in Australia, Singapore, China and New Zealand.
Working on both a local and international scale, Jarrett has developed light rail systems, bus rapid transit systems and bus-rail system integration for cities. He has also guest lectured at numerous universities, including teaching a graduate course at the University of California, Berkeley in Public Transportation Systems in 2002.
He released his first book in November of 2011, Human Transit: How Clearer Thinking about Public Transit Can Enrich Our Communities and Our Lives, which focuses on the holistic properties of public transit systems. The book is available through his website.
Jarrett and his work have been featured in numerous publications including The Atlantic, Slate, The Washington Post Express, The Calgary Herald, and many more. Jarrett graduated with a Bachelor of Arts degree in Mathematics and Computer Science from Pomona College in 1980. At Stanford University, he obtained his Ph.D. in the Humanities and Theatre Arts, with broad training in literature and history. He resides in Portland, Oregon and Sydney, Australia.
He joined SCI as an Expert-in-Residence in 2012.
Return to Past Experts-in-Residence.
The Sustainable Cities Initiative and its partner organizations were proud to bring Gabe Klein, former Director of the District of Columbia Department of Transportation (DDOT), for a three-day visit to Eugene, Salem (SCI's 2010-11 Sustainable City Year partner), and Portland.
Before serving as Director of The District Department of Transportation, Klein was a Co-Founder of On The Fly, an innovative, boutique food-service company promoting the use of "smartkarts" which complement smart growth by bringing high quality natural foods to residents, workers and visitors in densely trafficked areas, typically near transit.
In 2002, Klein worked with the founder of Zipcar to turn the new concept of "carsharing" into a viable business in Washington D.C.. Prior to Zipcar, he led a technology consulting start-up working to make cycling accessible to everyone. He spearheaded Bikes USA's launch into South Florida, before taking over responsibility for daily operations in all locations, spanning 7 states including the Washington Metro area. Gabe also grew up in the cycling industry, and avidly rode and worked in cycling related ventures since childhood.
Gabe and his work have been featured in many major news outlets including The New York Times, The Washington Post, Washington Business Journal, Bloomberg and many more. Gabe holds a degree in Marketing Management from Virginia Tech, and is a 14 year resident of The District, currently residing in Columbia Heights.
Return to Past Experts-in-Residence.
Jonathan Levine is Professor and Chair of the Urban and Regional Planning program in the Taubman College of Architecture and Urban Planning at the University of Michigan. He teaches courses in transportation policy and planning, public economics in urban planning, and quantitative planning methods, in addition to several doctoral seminars. Levine's published work has significantly influenced the field of transportation policy. His research focuses on the relationships between transportation systems and land use in metropolitan regions, factors that drive the development of such systems, and the efficiency of public transit. His research has been supported by organizations including the Environmental Protection Agency, Graham Environmental Sustainability Institute, Michigan Department of Transportation, Mineta Transportation Institute, Ann Arbor Transportation Authority, and SMART (Suburban Detroit Public Transit), in research and planning in transportation. He is the author of Zoned Out: Regulation, Markets, and Choices in Transportation and Metropolitan Land Use (Resources for the Future, 2006).
In 2001, the Association of Collegiate Schools of Planning and U.S. Department of Housing and Urban Development awarded him the Excellence in Urban Policy Scholarship Award, and he received the Best of Association of Collegiate Schools of Planning Award in 1996. Levine was recognized with the Award for Outstanding Teaching and Dedication to Students in 1995 from the Masters of Urban Planning Graduating Students.
Levine joined the Taubman College of Architecture and Urban Planning as Assistant Professor in 1991. Prior to his appointment at the University of Michigan, Levine studied and taught at the University of California at Berkeley. In addition to a Ph.D. in City and Regional Planning from UC Berkeley, he holds the Master of City Planning and the Master of Science in Civil Engineering, with a transportation focus.
Return to Past Experts-in-Residence.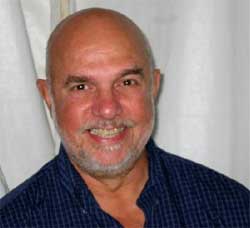 Bill Wilkinson has been involved with bicycle and pedestrian programs for over 40 years. He has worked for the National Parks Service and the Department of Transportation. In 1977, he helped found the National Center for Bicycling & Walking (NCBW) (originally known as the Bicycle Federation of America) and was a member of the staff for 25 years. He stepped down as NCBW's executive director in 2008.
Over the years Mr. Wilkinson has helped develop more than 50 state and regional bike/pedestrian plans. He currently works as a management consultant for the National Park Service on its Park Roads and Parkways Program and serves on the board of directors on the Audubon Naturalist Society.
Wilkinson joined SCI as the program's first Expert in Residence in 2009.